WE'RE ALL PART OF GOD'S PLAN(ET)
At the heart of our mission at WRH is a thriving Franciscan charism and care for the dignity of all creation. With that, we are partnering with other like-minded groups to share the Good News and spread this mission of global compassion and care. The Washington Retreat House supports creating a "Laudato Si' Community."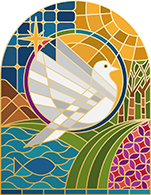 Join Catholics in the United States on a global journey toward environmental sustainability and eco-conversion at all levels of the Catholic Church: individuals, families, ministries, dioceses, parishes, religious orders, Catholic schools, healthcare groups, organizations and businesses.
Go to godsplanet.us and discover how the US Catholic community is engaging with the Vatican's Laudato Si' Action Platform.
Catholic Climate Covenant
Laudato Si' Movement
---
All powerful God, you are present in the whole universe and in the smallest of your creatures. You embrace with your tenderness all that exists. Pour out upon us the power of your love, that we may protect life and beauty. Fill us with peace, that we may live as brothers and sisters, harming no one.
O God of the poor, help us to rescue the abandoned and forgotten of this earth, so precious in your eyes. Bring healing to our lives, that we may protect the world and not prey on it, that we may sow beauty, not pollution and destruction.
Touch the hearts of those who look only for gain at the expense of the poor and the earth. Teach us to discover the worth of each thing, to be filled with awe and contemplation, to recognize that we are profoundly united with every creature as we journey towards your infinite light. We thank you for being with us each day. Encourage us, we pray, in our struggle for justice, love and peace. (From Laudato Si' Encyclical, 2015)
The Laudato Si' Movement celebrates and embraces all initiatives born from Pope Francis' encyclical, Laudato Si', written in 2015, and all organizations working for ecological and climate justice.
View the video of Pope Francis, May 2021 – Laudato Si' Action Platform
In Laudato Si', Pope Francis invites us to "discover what each of us can do" as we build a better future together. (LS 19) Responding to the call of Laudato Si' means embracing new ways of living, as our growing awareness of the connections between all things is translated to concrete action.
We will use our own lived experiences and the Laudato Si' Goals to inform our study, prayer and actions. Their holistic approach supports a spiritual and cultural revolution as we strive for total sustainability in the spirit of integral ecology.